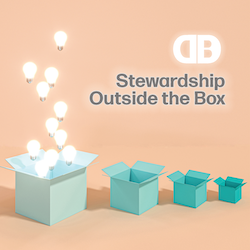 This month, we're thinking about thanks... especially for those who support nonprofits in their important work. It's time to think outside the box about stewardship.
---
Thank Less: the act of reduced expressions of appreciation despite strong feelings of gratitude.
As needs for critical and unforeseen programs services continue to grow, non-profit leaders are spending more time than ever raising money to fill the gaps. When asked to measure how much is needed to match growing demands, the answer is almost always "more." It is this noble and necessary pursuit of the next grant, major gift or public support that has perpetuated an unintended cycle of thanklessness.
Put simply, as we spend more time focused on the pursuit of the next source of funding, we often fall short when it comes to donor appreciation, recognition, and stewardship. When we are asking more, we are in danger of thanking less!
Not only is this poor form in the art of fundraising, but it can also have long term unintended negative effects. Based on research of major donor behaviors, the number one reason a donor will give again (and perhaps increase giving) is because they were thanked and shown how their gift made an impact. The study concluded that while major donors enjoy recognition, they require information.
There is no doubt that charities are incredibly grateful for the support they receive but in the words of Willian Arthur Ward: "Feeling gratitude and not expressing it is like wrapping a present and not giving it."
When you take the time to thank a donor and show them how that helped, you are lifting them up and making them the hero of your story. You are drawing them closer to your cause and laying the foundation for a long term, mutually rewarding and beneficial relationship.
So… Don't rob yourself or your donors of the joy and impacts of timely, authentic and meaningful stewardship. The ask may get you a gift, but the stewardship will gain you a passionate long-term partner and supporter.
---
We've enjoyed sharing some "out of the box" stewardship ideas with you this month. Don't let the stewardship stop with the Thanksgiving holiday. Challenge yourself and your team to say "thank you" at least as much as you say "please" during these hectic last few weeks of the year! Let us know how it's going in the comments below.