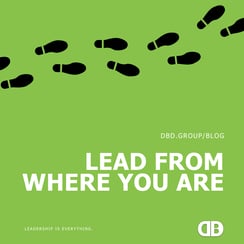 One of our core axioms at DBD Group is "Leadership is Everything." The success of an organization can be directly tied to the strength of its leadership.
We recognize that leaders can be found throughout the organization and in non-profits big and small. More than a title on a business card, leadership is the ability to guide and influence others toward a bigger vision. We are pleased to highlight and recognize examples of leadership all month.

---
Recognize the Impact of Smaller Roles
"Act well your part, there all honor lies." - Alexander Pope
My high school theatre director once shared this quote with me and my fellow thespians. The cast list for the most recent production had just been posted and he knew that several of us would be disappointed. He took that opportunity to illustrate how important every single role was to the show. Every role from leading lady to understudy to costume designer to tech crew makes up the picture that tells the story and creates a successful production.
The same applies to the success of a nonprofit and its philanthropy, especially when it comes to annual giving. Each staff member and volunteer has a role to play in the success of fundraising, even when it may not seem like it.
The Power of Storytelling
At the core of fundraising is the art of storytelling. And each of us has a story to tell and a network of people who care to listen. In your everyday work, there's a story of how you are making a difference for someone or something. Ask yourself, how did I help someone today? How is my community – or the world - better now because of the work of my organization? How can I share my impact?
As you tell your better story from where you are, remember:
The purpose outshines the program.
Names upstage numbers.
And, change is greater than dollars.
While your role in your nonprofit's fundraising campaign may feel insignificant, your individual impact is part of the larger story and has a great impact in your community. By sharing your story with those in your spheres of influence, you will raise people's interest and gain their support of the mission.
There is honor in your role and story. Share it far and wide!
The Art of the Ask
Learn more about fundraising and gaining those crucial opportunities to meet with donors in this post: Be Willing To Wait. And, if you feel fundraising coaching would be a value increase for your organization connect with a DBD consultant.