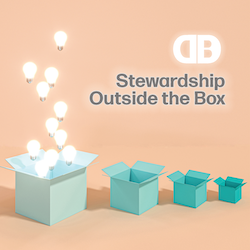 This month, we're thinking about thanks... especially for those who support nonprofits in their important work. It's time to think outside the box about stewardship.
---

Over 77 million people volunteer in the U.S., serving a combined total of 6.9 billion hours each year. (That constitutes the equivalent of $167 billion dollars' worth of service.) What a truly amazing gift!
Thinking about all the people who served at the organizations I've been involved with over the years made me reflect on two questions:
Do they know the impact they made?

How could I have better motivated those volunteers to continue serving?
We know that people volunteer because they want to give back and be part of improving the community. By clearly and directly showing our volunteers the impact they're making, they are more likely to stay engaged and continue to serve.
TELL THE STORY
Let your volunteers hear the impact through the voice of the participants. Not only will this inspire them, it will also help prepare your volunteers to tell great stories about your organization with family and friends.
BE CREATIVE
The pandemic has created opportunities to use technology in more innovative ways. Use video to help your volunteers see how the work they're doing is making a difference. Take volunteers on a virtual tour of your programs or facility. Showing, not just telling, will help the message be understood and appreciated.
STEWARD THE GIFT
Volunteers are donating their valuable time; therefore, they should be stewarded like your donors. Thank you letters, copies of the annual report, invitations to key events are all ways of showing volunteers that your organization couldn't make it without them.
EDUCATE AND INFORM
Like monetary donors, volunteers want information. They should know what the community's needs are and how their time, talents, and treasure are supporting your organization in addressing those needs. Keep them informed by providing impact reports and involve them in planning and strategic discussion to create change. Volunteers have the skills to help your organization; tap into their knowledge.
SHOWING GRATITUDE
Sometimes – and definitely more often in the past year – I have heard nonprofit leaders worry about "volunteer fatigue." They say that their volunteers have "checked out" or are not showing up in the ways they used to. Volunteers are similar to donors and staff – they will go where their impact is well defined and their efforts are appreciated. Given the operational concerns of the past 18 months, it may be the case that you haven't had a moment to thank your volunteers, even as you've leaned on their support more than ever.
There's still time to change that. Thank you notes or phone calls, special food or celebration at volunteer meetings, or even a full-page ad in the local paper thanking your volunteers… all of these and more can help revitalize your volunteers toward your cause, helping you have a greater impact for years to come.
Want some more volunteer and board development ideas?
Volunteer Churn by Michele Goodrich
Ownership by Thom Peters
Boring Your Board by Kellie Wardman
Header Photo by Rémi Walle on Unsplash