Like most professionals in today's work environment, I have looked for a variety of mentors to help me grow and develop as a professional, as a woman in the workplace, and as a wife and mother.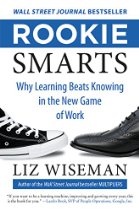 A recent experience caused me to rethink the selection of mentors at this stage of my professional development. I read "Rookie Smarts: Why Learning Bests Knowing in the New Game of Work," and had a chance to hear the author, Liz Wiseman as part of the lineup at the Willow Creek Association Global Leadership Summit.
This book speaks to the special way we all operate when we are the new guy or gal in our workplace and offers ways to help us "go back" to some of those early behaviors, like asking questions, seeking advice and opinions from a variety of stakeholders before moving forward, and being willing to take risk and work hard to survive, sometimes even without changing jobs! As the rookie coming onto the Donor By Design Team, I thought this would be a good read for me.
One of the ideas in her book that stuck with me is the idea of "reverse mentoring" – the practice of seeking out younger and sometimes less experienced members of the team and engaging their assistance to develop new skills. And, just in case your mind already went there, don't just fall back to asking them questions about social media. Liz says – and she's right – that's too easy!
Just by thinking about this issue I am already able to pinpoint things I have learned recently from my young adult children and their entry into fulltime work, and by the younger members of the team within the organizations that I am currently engaged in serving. I am experiencing new issues about hiring and on-boarding processes, about organizational culture and nuances, about project management and internal support and about accounting and financial systems… all things that for more than ten years I have almost taken for granted.
So, as the rookie, what should I do? I have scheduled a call with a new Development Director, not just to offer words of encouragement and support, but also to ask her to join me in dialogue about being the "rookie" and seek her counsel.
I am embracing a new spirit of learning, of being slightly less comfortable in this new seat, but also being willing to explore with a new kind of mentor; one that may be significantly younger than me!