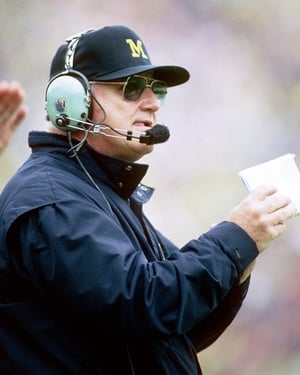 No man is more important than The Team. No coach is more important than The Team. The Team, The Team, The Team, and if we think that way, all of us, everything that you do, you take into consideration what effect does it have on my Team?
Bo Schembechler, Head Coach, University of Michigan Football, 1969-1989
For those players, working in harmony together was critical for success.
Likewise, your staff team and volunteer teams are critical to your fundraising success. But when it comes to who will give to your mission, Bo might be forced to say, "The Individual, The Individual, The Individual."
That's right. Your focus should be on individual donors. Giving USA's latest annual report on charity giving* found a new high in giving in the U.S. to the tune of $373.3 billion – a growth of 4% over the previous year. And of the new record amount, corporate donations accounted for just 5 percent. Foundations, those behemoths of charitable giving, gave just 15 percent. Eighty cents of every dollar donated in the U.S. last year came from individual donors (that's close to $300 billion for those keeping tabs).
When you find yourself working through a major donor prospect list with your volunteers, people often think of big corporations first. While you should always be on the lookout for corporations and foundations whose philanthropic goals match your case, keep in mind that 80 percent of your time is best spent cultivating individual donors. Think faces and not logos when you're creating a list of potential donors.
Do you spend 80 percent of your attention on individual donors? I sure need to.
* All data referenced here comes from Giving USA's 2016 Annual Report on Philanthropy. Learn more or order your own copy of the report here. Curious about Canadian giving? We couldn't find a source for comparable data, but this report offers a good overview of Canadian charitable giving.