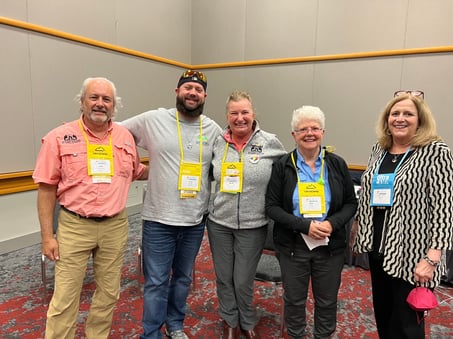 "It's possible to save a camp. We need to share that story." -Gretl Dupré Galgon
Pictured left to right: Tack Hammer, Camp Soles board member and alum; Andy Dillon, Camp Soles Director; Gretl Dupré Gagon, Camp Soles board member and alum; Sue Fletcher, Camp Soles board member and alum; and Michele Goodrich, DBD Group Senior Consultant.
---
On the first night of the 2022 American Camp Association National Convention, a group gathered to hear the story of Camp Soles.
In 2020, the board of this 67-year-old camp in Western Pennsylvania were informed that the land owner would be selling the property. A few weeks later, a group of committed alumni forged a plan to save their camp for future generations.
While the details of how they did it is particular to their situation, there are lessons that are applicable to any camp or nonprofit.
Activate Alumni Before You Need Them
"You can't wait for a crisis to activate your alumni relationships." - Tack Hammer
For the sixteen years before the sale, the director and board of Camp Soles were intentional and focused on reconnecting with alumni across generations. From reunions to social media searches, scouring college alumni directories to the "Find Schmitty Committee," the Camp Soles alumni network grew. It was one of those loyal alumni who ultimately decided to buy the camp property and lease it back to the new Camp Soles board of directors.
What We Learned at Camp Mattered
"We couldn't wait for someone else to save us. We had to be the leaders we need… the leaders Camp Soles taught us to be." - Gretl Dupré Galgon
During their talk, all of the volunteers who were so instrumental in transitioning their camp reflected on the leadership lessons they learned at camp. As former camp director (and current board president) Sue Fletcher said, "All camps hope to help kids learn independence and confidence so that they can go on to do great things." Each member of this key volunteer team realized that they were in a unique position to bring their leadership skills, time and treasure to bear on the project and they heeded the call to serve.
Begin With the End in Mind
It was just eight short weeks from the time the property sale closed to the opening of the 2021 camp season. During that time, additional alumni volunteers contributed their time and talents to make sure Camp Soles was ready. While all acknowledged that it was a huge amount of effort, having so many people willing to help made a difference. "Who do you want to sit outside in the pouring rain with?" asked Tack. "We supported and encouraged each other through each decision and each challenge."
The COVID pandemic has been extremely challenging for the camp industry. We can all learn from this inspirational story about the importance of cultivating relationships with those you've impacted. You just never know when all the good you poured into people will come back to save you.
---
It's been wonderful connecting with camp professionals at the 2022 American Camp Association (ACA) National Convention this week. #ACAnat22 We are proud to serve as the fundraising counsel for the ACA.
If you are a camp professional and would like to talk to someone about fund development, strategic planning, or finance, drop us a note! We'd be happy to talk.