One of our core beliefs is that you're only as strong as the team you surround yourself with. That's true for the Donor By Design team, and we see it over and over again in the staff and volunteer teams we work with.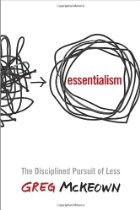 I recently finished the book "Essentialism: The Disciplined Pursuit of Less" by Greg McKeown. It's a great read, full of ideas on how to better use your time, editing away the nonessential to get at what is most important and where you can have the greatest impact.
Of the many big and small ideas presented in the book, this one resonated loudly with me:
Be ridiculously selective in hiring people.
Just yesterday, I overheard a job interview being conducted on a speaker phone. I listened to the questions the interviewer asked and the (rather uninspired) way the questions were answered. I could tell that the interviewer was desperate to get the job filled by the start of the summer season. The interviewer kept saying – as much to herself as to the person she was interviewing – that this was just an entry-level position without much client contact.
As the bar for expectations and performance plummeted throughout the conversation, I thought about what McKeown said in his book:
"…one wrong hire is far costlier than being one person short."
Consider the value that every member of a high-functioning team brings to the whole. In a high-functioning team, there are no positions that aren't critical, and no members of the team who are dispensable.
Your team is only as strong as the people in it. Your board is only as strong as the people in it. Don't settle. Take the time to develop thoughtful criteria and be patient in finding team members who not only fit the criteria, but who love the criteria. As McKeown says, "if it's not a clear yes, then it's a clear no."
Do you agree? What are your strategies for making sure you get "a clear yes" before you hire?