Since joining DBD Group in 2010, Michele Goodrich has provided resource development counsel to youth-focused, arts and cultural, health-related and educational nonprofit organizations throughout the country. Her extensive and diverse experience in nonprofit leadership positions makes it possible for her to tailor her approach to each nonprofit client's set of circumstances as well as its unique culture and distinct strengths.
Michele brings a strategic approach and a willingness to take a hands-on role in development efforts to each of her assignments that include providing counsel for:
Feasibility Studies and Capital Campaigns
Development Assessments
Financial Development Strategic Planning
Annual Campaigns
Development Staff Coaching
Board and Volunteer Development
Collaboration Development
Working Genius Facilitation
Michele is particularly passionate about helping nonprofits increase their capacity to fulfill their mission and better serve their community by forging and developing mutually beneficial collaborations with other nonprofit agencies, healthcare providers, municipalities, school corporations and community colleges. She helps nonprofits explore new opportunities to come together and develop relationships that result in shared resources, increased efficiency, enhanced product lines, and an expanded capacity to serve more people and maximize community resources.
With over 30 years of direct nonprofit leadership experience, Michele has served as a program leader, resident camp executive, marketing and communications director, vice president of program development, chief of operations, and chief development officer. She has also served as an active volunteer and board member for arts organizations, youth focused agencies, private schools and cultural groups including Storytelling Arts of Indiana, the Catholic Youth Organization, IndyFringe Fest, YMCAs and groups that support global understanding and championing diversity.
Michele earned a Bachelor's and Master's degree from Indiana University and has participated in advanced seminars on financial development at Indiana University Lilly Family School of Philanthropy. She is a YMCA Senior Director and has served on the NAYDO Council (North American YMCA Development Organization), chaired the 2006 NAYDO Conference and is a member of AFP (Association of Fundraising Professionals).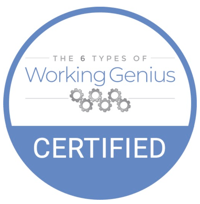 A Certified Working Genius Facilitator, Michele has received hands-on training from the Table Group team and is equipped with the tools and resources to help people leverage the Working Genius model with individuals, teams and organizations.